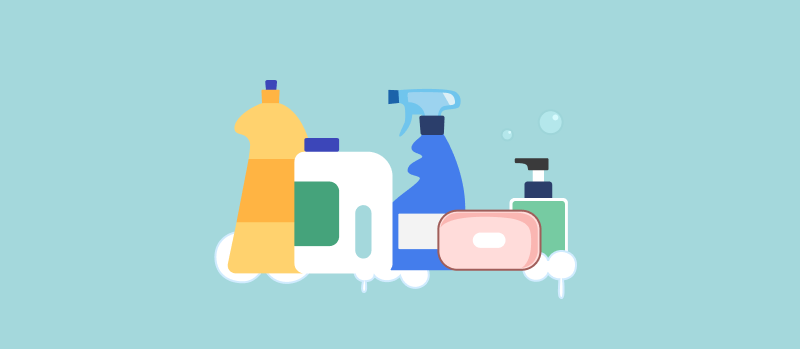 COVID-19 Cleaning Supplies: What to Avoid & Where to Buy
Introduction
A top priority on everyone's mind during the COVID-19 outbreak is how to keep things clean. Trying to avoid viruses, whether it's the coronavirus or the seasonal flu, can become quite stressful at a time like this. A top concern? Cleaning products seem to be out of stock everywhere. We have compiled a list of small, or less obvious, businesses that have personal and home cleaning supplies in stock online. Also included in this guide are CDC recommendations for the usage of each cleaning product. Be sure to follow best cleaning practices as approved by the CDC to keep you and your family safe.
Whether you are looking to get all your supplies delivered or looking to support small businesses, keep reading to find out how to shop cleaning essentials during this time.
Do NOT Use These Products Against Coronavirus
The following products are commonly thought to combat COVID-19, but they are not effective against the virus. Avoid companies promoting these products as being able to kill the coronavirus, they may scam you of your money.
Essential Oils
There is no evidence that tea tree oil, or other essential oils, can kill the coronavirus. The FDA has warned companies against false claims that their essential oils are a safe/effective treatment for this virus. You can still use these products in your home and make it smell nice, but it will not deactivate the virus.
Vinegar
There is no evidence that distilled white vinegar, a popular natural cleaner, is effective against the virus, according to a report from NBC News.
Vodka
Vodka has an alcohol percentage of around 40, which is not nearly as high as the recommended 70% for surface cleaning. This is the same for all other spirits – they will be ineffective against the virus.
Scams to Be Aware Of
Unfortunately, online scams are rampant due to the coronavirus outbreak. Adding to the stress of online shopping for virus prevention, consumers are being scammed out of money through false claims, fake items, and packages that are never received.
For more information on the types of scams happening right now, head over to Sitejabber's COVID-19 Scams guide. Sitejabber is actively researching and verifying claims of scamming, and we will update company profiles on our site accordingly. For tips on avoiding online scam websites, visit our blog.
Orders Never Arrive
Fraudulent retailers are taking advantage of consumers' fear – and the lack of readily available supplies – to post phony cleaning product listings that never actually arrive. This is one reason why it is so important to read reviews before purchasing from a retailer you're unfamiliar with. A customer service number or email is rarely available for these sites, leaving shoppers without their supplies or a refund when their order doesn't come through. If the website does have a customer service number, but you're unsure about purchasing, call that number first to see if you can talk to someone. If a representative is available, that is a good sign.
False Claims
Along with products not arriving, other companies post false claims about their cleaning products, leading consumers to believe that they are effective against coronavirus when they actually aren't. These types of websites pop up out of nowhere and disappear just as quickly, offering no refunds or returns to their customers. Products with the language "anti-coronavirus" are probably a sham, and many that claim this don't have the necessary ingredients to deactivate the virus. Also, check for a reputable brand name or certifications (such as CDC-approval).
If you can't find reputable reviews for a site, check their ingredients list against the EPA's approved list of ingredients for combating coronavirus.
Products to Use Against Coronavirus
Hand soap, hand sanitizer with alcohol, and EPA-registered disinfectants have all been approved by the CDC to deactivate COVID-19. Read more about each product's correct usage below.
Hand Soap

One of the biggest defenses against the coronavirus, according to the CDC, is to wash your hands with soap and water for at least 20 seconds. Soap and water dissolve the outer lipid, or fat, membranes of the virus, rendering it inactive, according to a CNN interview with a leading virologist. The CDC also stresses to use soap and water over anything else, including hand sanitizer, when available.
Top question: What type of hand soap do I use?
It is the actual action of scrubbing with soap that breaks down the lipids of the virus, so any type of soap you have will work, it does not have to be antibacterial soap. For more information about why the type of soap doesn't matter, read the HuffPost's interview with medical professionals on the subject.
Adam's Polishes manufactures car detailing supplies, such as waxes and polishes, but has pivoted its efforts towards making products for the COVID-19 outbreak. Adam's Hand Soap is a heavily concentrated formula that is appropriate for at-home use, and comes in three scents: Lemon Cream, Coconut, and ironically, Detail Spray.
Key features: Hypo-allergenic, pH neutral, non-toxic
Price: $6.99 per 12 oz bottle
Hand Sanitizers

While your first choice should be soap, if that isn't an option, the CDC recommends using an alcohol-based hand sanitizer that contains at least 60% ethanol or 70% isopropanol. This might not be as effective as washing with soap for 20 seconds, but if you do not have immediate access to running water, it is the next best choice.
Which Sanitizers Work: Alcohol-based hand sanitizer that contains at least 60% ethanol or 70% isopropanol.
As a clean makeup and skincare brand, 100% PURE has made the natural transition into manufacturing hand sanitizer during this shortage. Their FDA-compliant formula is made with aloe vera gel and tea tree oil to moisturize skin.
Key features:

62% ethyl alcohol
Vegan, cruelty-free company, made in the USA

Price: $5 per 1.7 oz bottle – minimum purchase of 3
Disinfectants

Besides keeping your hands clean, disinfecting surfaces and objects in your home is important too. The CDC recommends using EPA-approved products and ingredients to keep you and your family safe from harsh chemicals. For items that are cleaned with alcohol-based solutions, like touchscreens, use a formula with at least 70% alcohol. For more details on cleaning specific items or surfaces in your home, visit the CDC's guide for household disinfecting during COVID-19.
Which Disinfectants Work: Disinfectants with bleach, isopropyl alcohol (at least 70%), hydrogen peroxide (3%), and products on this EPA list.
Buckets of Ink, a screen printing and embroidery supply store, makes a hospital-grade Disinfectant Cleaner Concentrate. It's EPA registration number (#10324-154) can be found on the approved list for coronavirus products, with a contact time of 10 minutes.
Key features:

Claims to be EPA-registered and approved to work against human coronavirus
Lemon scented
Concentrated formula
Hospital grade

Price: $84.95 (makes 64 gallons)
Working Together to Stay Safe
While this outbreak is a scary and stressful time for many, using the right cleaning products for personal hygiene and your home is a powerful way to stay safe. We'll continue to add retailers to this list as more products become available. Remember to follow the CDC's guidelines for safely cleaning with recommended chemicals.
As you're purchasing cleaning products, please remember to buy only what you need. This worldwide shortage is partially due to consumers hoarding supplies. By working together and only buying what is necessary, we can make sure that everyone can protect themselves and their families.
Have more questions? Reach out to others on our COVID-19 community Facebook group.