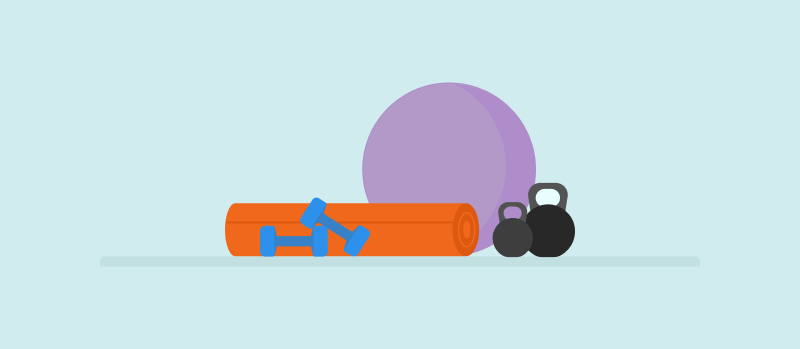 At Home Fitness: What & Where to Buy
Introduction
With the COVID-19 pandemic affecting gyms around the country, many people are scouring the internet to find at-home fitness equipment, only to be met with products that are out of stock. Online stores are selling out quickly. And while there are dozens of fitness programs out there, it can be time-consuming and expensive to test them out until you find the one that's best for you.
That's why we're introducing a comprehensive, crowdsourced guide to help you stay fit at home. This guide covers the basics you need to know to build a home gym; includes a checklist of places to search for fitness equipment; and reviews several workout programs and apps so you can find the one that's best for you.
Keep reading to learn more about how to get in shape right from your living room – no gym membership needed.
Build Your Home Gym
Building your own home gym? You might feel overwhelmed by the amount of options out there! If you're new to the idea of a home gym, take a look at this list of basic equipment to include. You can mix and match the equipment you want based on the amount of space you have and your fitness goals. We've also included standard pricing for each item to make sure you don't fall prey to inflated prices.
Resistance Bands

Resistance bands are elastic bands used for workouts, physical therapy and rehab programs. They work by adding extra resistance but not much extra weight. Some are thick and wide, meant for intense strength training workouts. Others are smaller and designed to provide light resistance. To use a resistance band, you'll anchor the band in place and push or pull against it.
Why buy:
Resistance bands give you a great strength training workout while going easy on your body. If you are new to working out, have joint pain, or your body is just getting older, physical therapist Jennifer Heberton tells Popsugar that bands are a good choice because they promote stability and are easier on your joints. They're also affordable and give you a wide range of options as far as exercises to perform – including stretching and mobility exercises in addition to just strength training.
Standard pricing:
Since resistance bands are so small and light, they can cost as little as $5. High-end resistance bands can range up to $100 for a set of four. In general, $15 will probably get you a durable, high-quality resistance band.
Dumbbells

Dumbbells are free weights that range in size from one pound to about 60 lbs. They can be used for strength training exercises that target muscles all over the body.
Why buy:
Dumbbells are a must-have piece of equipment for any home gym. They're incredibly versatile, lending themselves to just about any exercise – cardio workouts, strength training moves, core activation, and more. And since they're a free weight, they help improve your range of motion. Try purchasing adjustable dumbbells so you can tweak the amount of weight you're holding as you progress.
Standard pricing:
Dumbbell pricing really depends on what you want. Purchasing a whole set of dumbbells, for example, will set you back a lot more than just purchasing a pair. Depending on how heavy the weights are, you can likely find a good pair of dumbbells for $30; as a general rule of thumb, dumbbells often cost about $2 per pound. Adjustable dumbbells normally cost around $300. And if you want a full set of dumbbells (multiple pairs of dumbbells in different weights), expect to fork over $1,000 or more.
Kettlebells

A kettlebell is a ball, often made of iron, with a handle on the top. Kettlebells offer a great full-body workout – they're most often used for exercises that incorporate several different muscle groups. And since they're free weights, they're easy to have in a home gym.
Why buy:
Kettlebells are also a versatile equipment, while providing a better grip for workouts like squats. Swinging around the heavy piece of equipment will help your balance and stability, too. Kettlebells can combine cardio and strength training workouts into one. Finally, many kettlebell workouts are short and intense, saving you time that you can spend on other things.
Standard pricing:
Kettlebells are somewhat expensive, although the final price depends on the weight. Low weight kettlebells (think 5-20 lbs) generally cost between $15 and $100 (or higher depending on the brand). True cast-iron kettlebells commonly cost a couple of hundred dollars for a set of two.
Barbell

A barbell is a bar (ranging from four feet long for curl bars, to over seven feet long for Olympic bars) that's used for strength training workouts – put weights on either end and you can perform various weightlifting exercises. Squats, rows and curls are all examples of effective barbell exercises.
Why buy:
Barbells are an integral piece of equipment for your home gym. They allow you to lift heavy weights and to safely work multiple muscle groups at the same time.
Standard pricing:
For a basic barbell, you can probably expect to pay around $250. Specialized products like a deadlift bar, powerlifting bar or Swiss bar will cost more. But to get the true benefits of your barbell, you'll want to purchase plates to put on either end and a squat rack, too.
Squat rack

A squat rack or squat stand is the most basic, large piece of equipment that allows you to add weight and get into position. If you want a rack that supports your weight and your form, power racks are made of four tall posts with two horizontal bars on the sides that you can adjust.
Why buy:
Basic squat stands are essential for lifting and squatting heavy weights, and a minimalistic option compared to power racks. But for a home gym where you might be working out alone with no spotter, a power rack helps you safely lift heavy amounts of weight. Power racks are also very versatile and can extend to many other exercises beyond just squats – add a dip station to your rack or some pull-up bars.
Standard pricing:
A squat rack will set you back a few hundred dollars. While you may be able to find a used squat rack for under $100, in most cases, squat racks cost around $300. Power racks will be pricer.
Plates

Plates are weights that you put on either end of a barbell to create a balanced weight to lift. There are two primary types of plates: bumper and steel. Rubber bumper plates can be dropped from overhead (while doing Olympic lifts) without hurting the plates or yourself. Steel plates work better for exercises with a smaller range of motion, such as basic curls.
Why buy:
Once you start accumulating plates, your barbell has a whole new range of workout potential! Barbell training is a good workout for athletes or weekend warriors of a variety of levels. Doing exercises with a barbell and plates works multiple muscle groups at the same time, and as you increase plates, you can increase strength and muscle volume as well.
Standard pricing:
Plates typically run around $2 per pound, meaning a set of 50 lb plates could set you back approximately $100. Bumper plates normally cost more than steel. And the higher the weight goes on either type of plate, the more the price will rise.
Bench

Adding a bench to your home gym gives you more options for the workouts you can perform. Benches are typically a few feet high and range from simple flat-top benches that you can lean on, to adjustable benches with add-ons to aid with other exercises.
Why buy:
The right bench will provide stability and keep you safe as you work with free weights to get stronger.
Standard pricing:
Benches can cost $30 to a few hundred dollars, ringing up at $100 on average.
Finding Fitness Gear

With the COVID-19 pandemic creating shipping delays and making home gyms more popular, you might be struggling to find enough choices for fitness equipment. Use these sources as a checklist to make sure you can get all the workout gear you need.
Marketplaces
Online marketplaces can be a good way to find fitness equipment. Since the equipment is used, it'll be much cheaper than the original retail value, offering a budget-friendly way to stock your home gym. Marketplaces are also convenient because you can find sellers who live in your area and meet up with them in a safe, nearby location.
However, you do have to be careful when it comes to buying from marketplaces. Make sure you aren't being cheated due to price gouging – which refers to a seller increasing the price of goods that are in high demand (like fitness equipment during the pandemic). At the end of the day, you might be better off buying new equipment at a slightly higher price than purchasing price-gouged secondhand equipment.
If you decide an online marketplace is a good choice for you, use this list of marketplace options to know where to look.
Craigslist is a well-known marketplace that's been around since 1995. This platform is full of ads separated into categories – a lot like newspaper listings. You can search according to the category you're looking for and your geographical location. If you're interested in an item, email the seller and arrange a time to meet up.
Craigslist is affordable – it's easy to find good deals, and you won't have to worry about shipping costs. Just make sure you're being safe and using common sense as you meet up with strangers.
On any given day, you'll find a wide range of gym equipment available for sale on Craigslist. Narrow your search by searching for specific fitness brands or pieces of equipment ("Reebok;" "dumbbells"). Craiglist also has an app called CPlus that can help you search more efficiently. Before you purchase anything, check the retail price of the item to make sure the seller isn't price gouging the product.
Stores
If you want to purchase your fitness equipment brand new, check out the websites of the following stores.
Dick's Sporting Goods is a large chain store known for selling a wide variety of equipment – fishing and hunting supplies, apparel, sports and fitness equipment, and more. You can find over 700 store locations across the U.S. or shop online.
Previous customers note the store's poor customer service, trouble with online orders, and delayed shipping times. However, if you shop in-store, Dick's might still be a good choice to help kickstart your home gym because of the range of quality products available.
---
You can find the following equipment for your home gym at Dick's Sporting Goods:
Agility ladders
Dumbbells
Exercise mats
Floor guards
Jump ropes
Kettlebells
Leg press machine
Medicine balls
Resistance bands or tubes
Rings
Squat racks
Stability balls
Treadmills
Weight bench
Yoga blocks or mats
If You Want to Splurge

Want to go all out with your new home gym? Consider investing in a new and trending product. Here are three up-and-coming options.
When it's off, it looks like a normal mirror. But when turned on, it's your personal home gym live and in action.
Billing itself as "The Nearly Invisible Interactive Home Workout," the Mirror Home Gym is a mirror that leads you through over 10,000 workout class options led by top fitness instructors from around the country. The Mirror Home Gym has the capability to:
Give you live feedback from trainers
Customize your workouts based on your goals and preferences
Measure your heart rate (when synced with a Bluetooth or Apple product)
Track your results and provide weekly analytics
Beginner workouts, expert routines, and more are all included. Choose from thousands of workouts based around kettlebell training, barre, kickboxing, and more. Some workouts require equipment – others don't. You can pick your own playlist, too. And over 70 new classes are added to the platform each week.
The Mirror is also a great choice for small living spaces. All you need is two feet of wall space to prop up the mirror and enough room for yourself. Mirror also has an app if you can't take your mirror on the go. Up to six people can use one Mirror subscription. more. Some workouts require equipment – others don't. You can pick your own playlist, too. And over 70 new classes are added to the platform each week.
Price:
The Mirror costs $1,500, or $42 per month over 36 months. You can try the Mirror risk-free for 30 days. Classes are sold separately at $39 per month.
Best Workout Apps & Programs

Once you have the equipment you need, it's time to plan your workouts. For best results, use a workout program created by a certified trainer who walks you through the exercises step by step. Lea Badenhoop, a health coach from the leading Mark Lauren fitness team, provided some advice for your fitness journey:
"The true gatekeeper of fitness is consistency. Long-term, staying the course requires finding the right starting point and progressing smartly. The drive to keep going does not come from will power or phony motivation techniques; it comes from getting meaningful results without wasted effort! The key is to start tiny and to make it as rewarding and convenient as possible."
As you continue your fitness journey during this time, here are a few workout programs the community recommends!
General
These apps and programs aren't specific to any one type of workout. Instead, they're great for simply gaining an overall fitness base.
The well-known Beachbody program has several on-demand programs so you can choose one that's tailored to your personal fitness goals. Beachbody has over 1,100 workouts, plus nutrition advice and a community aspect.
"I think Beachbody is a great company," says Sitejabber user Amy Y. "Any dealings with customer service have been awesome. My favorite thing they have come out with is Beachbody on Demand. They literally have every program for you to stream at a very reasonable price."
How it works:
Select the workout program of your choice and stream it on any device. The workouts offer modified options so you can tailor the exercises to your fitness level, and you'll get an eating plan, too.
Price:
Beachbody On Demand has several different pricing packages. A 12-month subscription costs $99.
Cardio
Use these apps to improve your aerobic fitness.
The Aaptiv app is full of audio workouts – voice recordings made by professional trainers. You can listen to the workout as you go, getting tips on your form or how to set your cardio machine. The app currently has thousands of workouts, with over 30 new ones being added per week.
How it works:
Register for the app and answer some questions about your fitness goals. Then choose your workout type, choose your playlist, and get going. While many of Aaptiv's workouts are cardio-heavy (including many programs to help you train for 5Ks or marathons), you'll find other types of workouts, too.
Price:
After a free seven-day trial, you'll pay $15 per month.
No Weights
You can do bodyweight exercises wherever you are without having to spend money on supplies – and you can still get a great workout. Use these apps to help.
Freeletics has several apps – one that's bodyweight, one for gym, one for running and one for nutrition. The bodyweight app can help you get a good sweat regardless of what equipment you own.
How it works:
Upload information like your fitness goals and current level. Then get started with a training program (available to paid subscribers only). If you'd like to use Freeletics at no cost, you'll still be able to access the individual exercises with demonstration videos and several free workouts.
Price:
The bodyweight app is completely free. To take things up a notch, pay $2.30 per week for training or $3.35 per week for both training and nutrition to access training plans in the Bodyweight, Gym, and Running apps.
Weightlifting
Worried about losing your weightlifting progress while gyms are closed? These apps can help you maintain (and improve!) your current fitness level from wherever you are.
The Bodyfit app created by Bodybuilding.com is comprehensive. Not only does it offer dozens of detailed weight training plans, it also helps you figure out nutrition goals and specific meals.
How it works:
Search through the 60 training programs to find one that meets your fitness goals – then get to work! The app places a big focus on nutrition and meal planning, too, in addition to offering workout demonstrations and advice. Track your workouts over time to see how you improve.
Price:
When you finish your seven-day free trial, you can expect to fork over $13 per month.
At-Home Fitness During COVID-19
No gym? No problem! Use these retailers, apps, and websites to build your own home gym and find a workout program that will keep you in shape during quarantine. And your home gym isn't just a one-time investment. Putting time and money into a home gym now allows you to enjoy the convenience of a home gym long into the future.
Have more questions? Reach out to others on our COVID-19 community Facebook group.